Digits' Visual Learning Journeys
Completely Customised Blended-Learning Experiences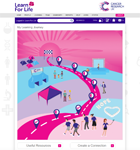 Fareham (UK), June 2016 - Digits has launched one of the biggest breakthroughs in the eLearning industry with its creation of Visual Learning Journeys using its unique journey-building software, gloTM. Digits' trademark learning platform, gloTM, has been specifically designed to deliver completely customised blended-learning experiences. 
Using visual learning journeys, learners experience eLearning pathways that deliver learning through an interactive, stylised virtual journey, making it more engaging, relevant, and in context visually to their workplace.
Throughout the learners' virtual learning journey, interventions occur in various forms: videos, webinars, tutorials, pdfs, and assessment forms.
The information and learning delivered is unique to the individual and specific to a particular role or development need. For instance, for new employees starting in the business, their journey will start with their need for familiarising and completing information, so a map of the office complex, a payroll form to complete, and a video with the Managing Director welcoming them would be the first milestones in their journey.
The visuals setting the scene and scenarios encountered along the learning journeys can depict absolutely anything - a climb up Mount Everest, a flight over various countries, a path around a retail store, or even a simple representation of the learners' journey to work.
This real-life imagery and scenario-based learning heighten engagement, deliver in-context information, and make the experience more intuitive and relevant for the learners.
Delivered both on and offline, learning journeys can be used at any time and at the users' pace. They not only deliver the learning, but also connect and signpost users to other support information to help them in their role.
As they progress through their journey, they can also earn points, badges, and certificates for completing tasks, as well as earning a ranking on a leader board with colleagues.
The ability to share knowledge with colleagues and peers is also available via a social network, which builds a sense of community, helping retain and develop employees for long-term growth.
By joining information that is traditionally captured across learning-development plans and fragmented via different delivery methods, visual journeys can not only deliver the complete blended learning, but allow a completely trackable reporting system, giving people managers real-time information.
Learning Journeys have proven to give great feedback and results. Cancer Research UK (CRUK), just one of the many clients that have embraced them, rolling out bespoke visual learning journeys to deliver their latest training to volunteers involved in Relay for Life events.
Learning and Development Manager for Cancer Research UK, Louise Donnelly, said, "Learn for Life provides an opportunity for our volunteers to learn all about their role and engage with the charity in a different way. It allows them to gain up-to-date knowledge and resources at a time, place, and pace that suits them. This is the first time we have engaged with our fundraising volunteers in this way, and we are excited to see the impact it has to help raise more funds to beat cancer sooner."
Managing Director for Digits Industries, Colin Bull, said, "Visual Learning Journeys are a fantastic, engaging way to deliver totally customizable blended-learning experiences both on and offline. We are excited to partner on this great project with Cancer Research UK."