LT Digital Days
A Taster ahead of Learning Technologies 2022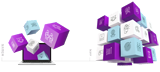 London UK), March 2022 - Unlock an exclusive pre-LT conference digital experience with LT Digital Days, from 15-17 March: a ten-session, three-day taster of what to expect at May's Learning Technologies event.
This March, Learning Technologies is back with a taster of what to expect at May's Learning Technologies Conference and Exhibition. LT Digital Days is an online event on 15-17 March: ten focused sessions across three days, looking at the reality of L&D today and how to build for the future.
The LT Digital Days programme will look at the practicalities of tools and methodologies that you need to succeed today. It will also provide key information to plan a path to the new role of L&D which is emerging - a role that is more challenging, but with more impact, and which is certainly more rewarding.
To unlock the exclusive LT Digital Days pre-conference experience, participants need to register for the exhibition or book a conference pass before 15 March.
Session hosts and speakers include Martin Couzins, Heather Gilmartin Adams, Dani Johnson, Jane Daly, Hannah Gore, Fiona Leteney, Peter Maniche Riber, Michelle Parry-Slater, Steffan van Hooydonk, Nigel Paine, Satnam Sagoo.