Corporate Research Network
2017 Fosway 9-Grids™ for Cloud HCM and Talent Management
Cirencester (UK), October 2017 - Fosway Group, a European HR analyst, has unveiled its updated 2017 Fosway 9-Grids™ for both cloud HCM (human capital management) and integrated talent management (ITM).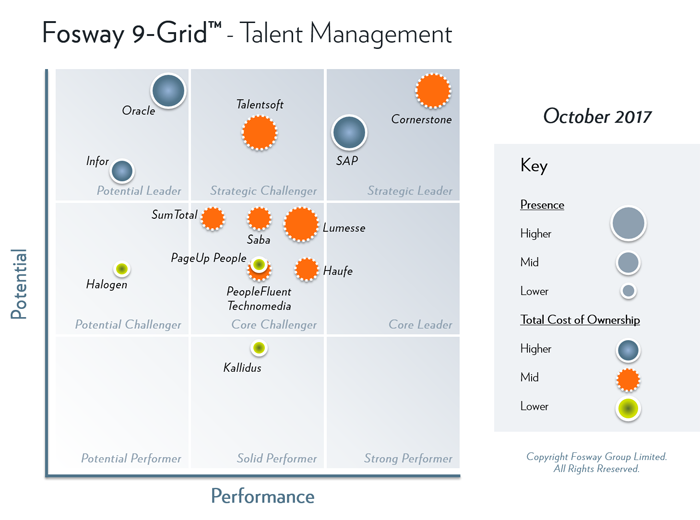 The Fosway 9-Grids™ help to demystify the supplier side of the HR technology market, assisting HR leaders in making informed decisions about their solution needs.
It is the only analysis research specifically targeted to help HR decision makers in Europe compare vendor solutions based on their performance, potential, market presence, total cost of ownership and future trajectories across the market.
David Wilson, CEO of Fosway Group said: "Our research shows that moving HR to the cloud seems to have an unstoppable momentum. With the promise of faster deployment, lower IT costs, and continuous innovation, especially around analytics and a consumer-grade user experience, cloud HCM is becoming central to corporate HR technology buying patterns. And although consolidation of systems seems to be a key driver, we also know that for HR professionals, it is also about being able to take a more strategic role in organisational decision making and raising the level of insight around people capability and performance.
"Our updated Fosway 9-Grid™ for ITM shows us that talent Sanagement was often just seen as a means of increasing the effectiveness of specific talent processes. But there has been a subtle change, so that now talent management is the vehicle of delivering an integrated employee value proposition, rather than just HR processes. We also know that potential employees are increasingly attracted by an organisation's commitment to developing them and to their career progression, as well as by the prospect of working in a progressive and dynamic organisational culture. But currently, as little as 23% of organisations feel their talent process really lives up to employees changing expectations."
The Fosway 9-Grid™ model is now in its fifth annual research cycle and is based on independent research and insights from Fosway's corporate research network, as well as market profiling, briefing activities, and customer feedback.
Each Fosway 9-Grid™ is accompanied by an analyst report, outlining some of the broader trends and context in each market. The reports for both cloud HCM and integrated talent management, including market commentaries and solution trends, are available to download free of charge from the Fosway website.
The Fosway 9-Grids™ for learning systems, digital learning, and authoring systems are also updated annually in January.
For organisations seeking greater detail of the data behind the Fosway 9-Grids™ or looking for a "critical friend" for independent feedback and advice on HR innovation and technology projects in 2018 and beyond, the new Fosway Corporate Connect service is now helping individuals, teams, and enterprises to accelerate and de-risk their strategies and decision making.