Themen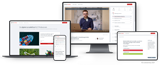 Hannover, April 2021 – Mit der heise Academy bietet Heise Medien ab sofort IT-Professionals eine Self-Education-Plattform zu wichtigen aktuellen IT-Themen – inhaltlich wie didaktisch auf qualitativ hohem Niveau und in deutscher Sprache. Die eLearning-Kurse ergänzen das vorhandene erfolgreiche Weiterbildungsangebot von Heise Medien. Konzipiert und umgesetzt wurde die neuartige Plattform gemeinsam mit dem Wiener Ed-Tech-Spezialisten Codeversity.
» MEHR
Education-Technology Summit
London (UK), July 2017 - EdTechXEurope, a major European education-technology summit, announced the winners of its EdTechXGlobal startup awards at the fifth edition of its event on 21 June at Kings Place in London. Winners of the EdTechXGlobal All Stars Rise awards are Lingvist, Primo, and Thinglink and winners of the EdTechXGlobal All Stars Growth Awards are Learnlight, Touch Surgery, and Youscian.
» MORE