Working Worlds in 2030
Future Trends at the tts Forum 2020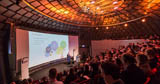 Heidelberg (GER), February 2020 - If you could see ten years into the future, you'd barely recognize your company. So, how are you bracing yourself and your workforce for the new world of business? This year's tts Forum 2020 conference, hosted by multi-award-winning learning specialist tts, is training the spotlight on this very question. Taking place 02 April in Heidelberg, Germany, the event – which centers on performance support, corporate learning, and HR consulting – is already in its sixteenth year and is aimed at staff developers, IT decision makers, and training officers.
If you've got a question about the future of business, Sven Gábor Jánszky is your man. In his speech, the founder and chairman of 2b AHEAD ThinkTank, one of Europe's largest independent trend research institutes, will look into the "Working Worlds of 2030". What technological revolutions are in store for us? What skills do we need? Will artificial intelligence help us carry out tasks - or even replace humans altogether? Join Jánszky on a journey through time and discover how you can prepare today for what's coming tomorrow.
Next, selected best practice case studies will show how high-profile companies are already making a big impression with innovative prowess. Be it new work, cloud migration, or employer branding, digitalization is rapidly revolutionizing the working world as we know it. HR and IT are playing a vital role in this upheaval. A digitally supported strategy is an absolute must for companies eager to keep their staff up to date on constantly evolving applications and processes and thus stay one step ahead of the global competition.
On the day before the actual event, 01 April at 09.30, the ttps UserGroup is offering all tt performance suite users the ideal platform to discuss innovative thought processes and novel ideas. What are the trends in digital performance? How can you support your employees in their moment of need? Share your ideas with users and specialists at the BarCamp and gain key insights from those in the know.
The tts Forum takes place 02 April 2020 from 08.30 to 17.30 at the Print Media Academy in Heidelberg, Germany.