eLearning Africa
German Support for African Digital Education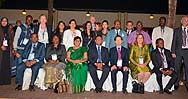 Port Louis (Mauritius) / Berlin (GER), October 2017 - German Chancellor Angela Merkel's Special Representative for Africa was in Mauritius last week for the eLearning Africa conference, where he revealed the scale of German support for digital education. Ms Merkel has long believed in the importance of technology in education-based development aid for Africa, but the increased scale of German involvement was only made clear at eLearning Africa.
The Special Representative for Africa, Guenter Nooke, a former member of the Bundestag, told the conference that at the beginning of this year, the Federal Ministry for Economic Cooperation and Development - BMZ - launched its own strategy to systematically integrate ICT in its development cooperation. "Our focus continent is Africa: Over the period of 2016-2017, BMZ has allocated around 100 million euros for digital projects in all sectors through its Digital Africa initiative. Digital education plays an important role in the BMZ Digital Agenda."
Mr Nooke gave several examples of German support for digital education in Africa. These included ICT programmes to improve teacher training in rural areas in Mozambique and Malawi and using ICT to improve both access to and the quality of education for refugees. "In Kenya's Kakuma refugee camp," Mr Nooke said, "we use digital technology for literacy and life-skills training."
Mr Nooke emphasised that cooperation with the private sector is an important part of Germany's digital agenda. "As the Addis Ababa Action Agenda and the Agenda 2030 emphasise, we need to get the private sector on board if we want to reach the sustainable-development goals.
The private sector is involved in both Germany's "Digital Africa Strategic Partnership" and in the "Make IT" programme, which provides support for start-ups and tech entrepreneurs.
"Through collaboration with start-ups, we want to harness the potential of digital innovations for development cooperation," said Nooke. "We also collaborate with the software firm SAP in the framework of the Africa Code Week to promote digital literacy and coding for children and youth in Africa."
Mr Nooke reminded his audience that both digital skills and access are important priorities for the German government. "Digital skills are an important priority for German Development Cooperation", he said.
This year, in the framework of Germany's G20 presidency, we launched the initiative eSkills4Girls. It aims at promoting participation, education and employment for girls and women in a digital world... Of course, with the G20 Summit in Hamburg, the work on overcoming the gender digital divide is far from being completed. In order to continue with the work, BMZ has recently joined the Global Partnership for Gender Equality in the Digital Age (EQUALS), a multi-stakeholder initiative, to accelerate global progress on bridging the gender digital divide. BMZ will work together with partners on the digital skills track.
Guenter Nooke spoke at eLearning Africa, which took place 27-29 September at Balaclava in the Republic of Mauritius. eLearning Africa is the Continent's largest conference on technology-assisted learning and training. Next year it will be held in Kigali, the capital of Rwanda, 26-28 September 2018.