Global Meeting Space
Open Call of WORLD LEARNING SUMMIT 2017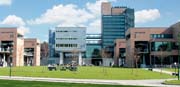 Heerlen (NL), February 2017 - The World Learning Summit (WLS) has launched its open call for scientific papers. This year, the focus is on smart universities, open education, and future learning. The world is full of conferences and summits, so why add another? "The atmosphere and feel at these conferences are quite unlike any other that I know", said Keith Devlin from Stanford University back in 2016 after his fourth conference visit. As of 2017, World Learning Summit and LINQ are joining forces to build on that sense of difference, creating a world conference on education's digital future.
"The key is simple: A new global meeting space for innovators and critical thinkers to discuss and reflect on what is ahead in the world of learning", says Oddgeir Tveiten, professor of media studies at the University of Agder, Norway, and founder of the World Learning Summit. "We want to bridge education and business and are inviting international learning experts, researchers, entrepreneurs, and practitioners from all educational and business sectors to join", underlines Christian M. Stracke from the Open University of the Netherlands, and founder of the LINQ conference. The call for scientific papers is now open and welcomes individuals to sign up for the new, unique opportunity.
The open call of the World Learning Summit 2017 invites full papers with a maximum of eight pages, as well as PhD projects with maximum four pages. Submissions to the call for papers must be sent by 15 March 2017 using the official template of WLS and LINQ available on the conference website. All submissions to the call for papers will be reviewed by the international scientific WLS and LINQ Programme Committee through strict double-blind peer review. Authors of selected submissions will be invited to publish them in the WLS / LINQ proceedings and present them in the Academic Track of the WLS 2017.
The WLS / LINQ proceedings are continuing the LINQ proceedings and the fifth issue of its series: Thus, they are submitted for indexing by Scopus, Emerging Sources Citation Index, Web of Science, Directory of Open Access Journals, EdTech Journals, Google Scholar, DBLP, and the Norwegian register of scientific journals, series, and publishers. Accepted full papers and PhD projects will be printed on paper (with ISBN) and distributed to all summit participants and online under global open-access license. Prize-winning papers will be invited for publication in an international journal. Accepted short papers (extended abstracts of the paper presentation, with references) will be published online.
The list of suggested topics for the submission of scientific papers and all further requirements are available online in the official Call for Scientific Papers.
Here is the overview of the important dates:
paper submission deadline 15 March 2017
notification of acceptance   15 April 2017
camera-ready copy due      30 April 2017
summit days                       07-09 June 2017
pre- and post-summit meetings     06 June and 10 June
Two leading conferences are now merging with the ambition to create an exciting meeting space with international level speakers: The World Learning Summit! The theme for this year's summit is "SMART UNIVERSITIES". The summit will take place 06-10 June 2017 on the beautiful Kristiansand Island in the south of Norway. With the World Learning Summit 2017, a new conference is on the circuit for scholars, teachers, students, entrepreneurs, and others interested in the changing landscape of education.
Together, participants will explore the lifelong-learning arc for those across the globe and the role of networks and community in that journey. World Learning Summit made its debut June 2016, based on six consecutive conferences in south Norway and Silicon Valley. LINQ - short for Learning Innovations and Quality - has run its four prior conferences in various international locations.
We expect 450 participants at the World Learning Summit in Norway, 07-09 June 2017. World-renowned speakers and about 50 ed-tech companies will be discussing the futures and ways ahead for "Smart Universities".