Product Enhancements
PeopleFluent Talent Strategy Forums Go Online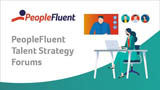 Raleigh, NC (USA), August 2020 - A series of virtual events aimed at customers across North America, Germany, and the rest of EMEA will offer insights into PeopleFluent's vision, strategy, and product direction, alongside breakout sessions for specific products. PeopleFluent, a provider of cloud-based talent acquisition, talent management, and learning solutions for large and mid-sized enterprises, has announced the lineup and agenda for its upcoming virtual Talent Strategy Forums.
Taking place over three dates from August-October via Zoom, and with agendas tailored to fit the regional time zones, PeopleFluent's Talent Strategy Forums are an opportunity for customers to get a first look at the latest PeopleFluent product enhancements. Attendees can also learn what's on the product roadmap, engage in interactive discussions, and discover how to make the most of PeopleFluent products.
"Despite lockdowns, the PeopleFluent Talent Strategy Forums we had planned for this year are still taking place. However, in the best interest of our customers and employees, we have shifted from an in-person format to a virtual format," said Stephen Bruce, PeopleFluent's Managing Director. "While we can't meet in person, we are committed to building, supporting, and engaging with all of our customers in the best way possible."
The virtual forums will be held in three locations:
North America - 19-20 August
Germany - 22-24 September
UK/EMEA - 29 September-1 October
In each location, day one of the virtual conference will focus on product strategy, while the remaining days will involve breakout sessions for a deeper dive into specific product enhancements across PeopleFluent's talent management, talent acquisition, and learning products. The Germany session is devoted specifically to learning, with a key focus on the PeopleFluent learning management system (LMS) and learning experience platform (LXP).
"There's no cost to attend, and guests can join from any device, wherever they are," added Bruce. "While the content is tailored to suit each region, all attendees are welcome to join for the sessions that best suit their needs."