HR Systems
New Fosway 9-Grids™ for Talent Management Launched
Gloucestershire (UK), October 2016 - Fosway Group, a European HR analyst, has unveiled its new Fosway 9-Grid™ for cloud human capital management (HCM). The company also announced the 2016 update to its popular Fosway 9-Grid™ for integrated talent management (ITM).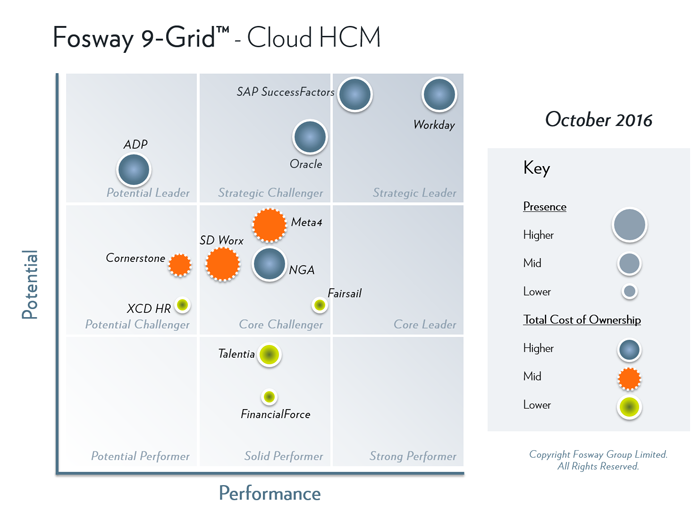 "Our research shows that organisations continue to move away from on-premise or hosted HR systems to realise the benefits offered by the cloud, including lower IT costs, faster innovation, and better user experiences. They are also seeking to simplify a complex HR system landscape scattered with multiple core HR systems and specialist functional applications," said David Wilson, CEO of Fosway Group. "This creates significant challenges in selecting the right solution strategy. The new Fosway 9-Grid™ for cloud HCM has been in development for over two years and is the only analysis specifically targeted to help HR decision makers in Europe."
He continues, "We have also updated the Fosway 9-Grid™ for integrated talent management. The war for talent continues to rage, and pressure is on organisations to streamline and innovate processes at every stage of the lifecycle – from talent acquisition and recruitment through to performance management. These are business critical challenges, so it's important we continue to provide insight and analysis that supports the buying process in this market."
The Fosway 9-Grid™ model is now in its fourth annual research cycle and is based on independent research and insights from Fosway's corporate-research network, as well as market profiling, briefing activities, and customer feedback.
Each Fosway 9-Grid™ is accompanied by an analyst report, outlining some of the broader trends and context in each market.
The Fosway 9-Grids™ for learning management systems, digital learning and authoring are updated annually in January.