Themen
Brüssel, September 2021 - Die digitalen Kompetenzen bleiben eine Herausforderung für die Europäer. Daher hat die Europäische Kommission einen Maßnahmenplan aufgestellt, um 70 % der Erwachsenen bis 2025 grundlegende digitale Kenntnisse zu vermitteln und die Zahl der 13- bis 14-Jährigen, die nicht über digitale Fähigkeiten verfügen, bis 2030 auf 15 % zu halbieren.
» MEHR
Brussels (B), October 2020 - The Digital Education Action Plan (2021-2027) outlines the European Commission's vision for high-quality, inclusive, and accessible digital education in Europe. It is a call to action for stronger cooperation at the European level to learn from the COVID-19 crisis, during which technology is being used at a scale never seen before in education and training and to make education and training systems fit for the digital age.
» MORE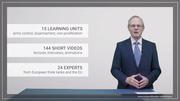 Frankfurt a.M., April 2017 - Wissenschaftler des Leibniz-Instituts Hessische Stiftung Friedens- und Konfliktforschung entwickelten federführend 15 Lerneinheiten zu Nichtverbreitung und Abrüstung im Rahmen ihrer Tätigkeiten im EU Non-Proliferation Consortium. Das EU Non-Proliferation Consortium ist ein Zusammenschluss von vier unabhängigen europäischen Forschungsinstituten, die die Nichtverbreitungs- und Abrüstungspolitik der Europäischen Union unterstützen.
» MEHR