Southampton Solent University
How to Meet Diversity and Equality with Video eLearning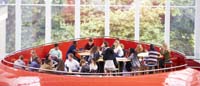 Southampton (UK), January 2017 - With an industry-leading approach to teaching a diverse student body and working with employees from many different backgrounds, Southampton Solent University is breaking new ground both in its research and its academic approach. Now, Southampton Solent University is the first to use new diversity video training from Marshall E-Learning, which takes into account millennials' preferred learning style by being 90% video led.
The Challenge
Southampton Solent University has been using Marshall's eLearning courses for several years, but the HR team wanted their employees and students to get a level of training that reflected modern best practice.
As Lisa Gridley, HR Development Manager at Southampton Solent University explains, "We went out to market as we needed a supplier who had a product that could be used on mobile, tablet, and desktop devices. We've got quite a diverse audience, so we needed to meet their needs as well."
As part of its training programme, Southampton Solent University is looking at how it can better educate about working with different nationalities represented across students and staff. Lisa and HR colleagues chose the key topics of Unconscious Bias and Equality & Diversity training as the starting points for their new eLearning programme. The goal was to raise awareness and educate about these key issues to help students and staff empathise with students from different backgrounds at the university.
The Solution
Southampton Solent University engaged Marshall's to upgrade their eLearning programme to fit with modern best practice. Marshall's new suite of video eLearning addressed the needs perfectly.
As Lisa explains, "David Marshall himself came down to meet us to discuss our needs, and we found that Marshall's could provide us with what we needed. We liked the courses and the way they flowed, in particular the videos that showed unconscious-bias and equality-and-diversity training."
The videos bring the subject matter to life, especially where issues like unconscious bias and equality and diversity can be difficult to understand without real-life examples. Marshall's video solution created an eLearning experience that did just that. "The videos offered real-life examples," Lisa said. "We worked with Marshall E-Learning on the scripts to make sure they were suitable for our needs."
The course anticipates that people have been asked to do diversity training before and may be complacent about the topic, so it looks at areas such as neuro-diversity or diversity of thought.
All of Marshall's eLearning courses are built to be HTML5 compliant and mobile responsive. This means that they work across mobile and tablet devices, as well laptop and desktop devices.
The Results
The videos have successfully created debate around the issues of unconscious bias and equality and diversity for both students and staff. The HR team at Southampton Solent University are even looking at how to improve the performance of BME learners at their institution, with Marshall's video eLearning being part of this effort.
As Lisa outlines, "We have a diverse workforce and lots of nationalities at the university, and these were well reflected in the video. We're also looking at how to improve the performance of BME learners at our institution, including looking at the issues of diversity and unconscious-bias training to see how we might be able to improve this."
Marshall E-Learning worked closely with their range of diversity-and-equality experts to create video content that is lifelike and visually engaging and focuses on storytelling to bring the issues to life. "People can relate to videos easier, as you can see people acting out situations. The scenarios reflect real-life situations and bring the subtleties to life of things like bullying. You can see the subtleties of body language or a misplaced word or nuances in language in tone; you don't get that from reading something about equality and diversity."
Starting a project with Marshall E-Learning
With the increasing demand for student-focused courses, Marshall E-Learning have designed a suite of courses in partnership with universities that is tailored to meet the mental, physical, and emotional needs of today's students.
The "Student Welfare Suite" contains courses on
Alcohol and Drug Awareness (developed with Brunel University)
Sexual Consent on Campus
Diversity training for students (developed with St Andrew's University and Manchester University)
Social Media Savvy (developed with Canterbury Christchurch University)
Tags
https://youtu.be/o3wqGyu4ZWU