University of London Partners with ARuVR
The UK's largest AR/VR Design Learning Centre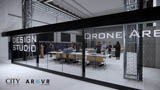 London (UK), April 2023 - ARuVR, a multi-award winning end-to-end, enterprise-grade Extended Reality (XR) training platform, has announced a three year partnership with City, University of London to provide its award-winning technology and expertise to engineering, computer science, and applied mathematics undergraduate and postgraduate students within the School of Science and Technology. The endeavour will be the UK's largest bespoke augmented reality (AR), virtual reality (VR), and metaverse design training centre.
Officially opening in September 2023, with funding from the Office for Students (OFS), this new state-of-the-art facility will train up to 50 students simultaneously to become the next generation of ethical tech pioneers in the field of augmented and virtual reality and their applications in engineering, computer science, and applied mathematics. The development of skills in VR and AR as well as the Metaverse is seen as a key skill shortage by industry, and the new facility is a direct result of demand from the City, University of London's industry and business partners, who are seeking talent with advanced skills in this sector.
The STEM skills gap costs £1.5bn per year in the UK (IMechE). Without access to modern, cutting-edge facilities and the means of flexible learning in an ever-demanding world, it is unlikely the skills gap can be addressed in the higher education sector. The Interactive Ethical Learning Design Studio will provide a practical space to innovate and practice new industrial processes to deliver social and economic value. It will transform and grow the City, University of London's specialist teaching and research capability in engineering, computer science, and mathematics. The facility will also be used by students and researchers from the School of Health and Psychological Sciences and the School of Communication and Creativity.
Professor Rajkumar Roy, Executive Dean, School of Science & Technology (SST) City, University of London, said, "Our partnership with ARuVR enables us to provide students with a scalable, cloud-based industry-leading AR and VR rapid application building platform, which will help them to develop the skills required to meet the demands of business across multiple sectors. This partnership goes beyond just providing the technology: ARuVR will provide ongoing expertise and guidance, as well as real-world industry experience and practice that is invaluable as our students progress in their studies and their career."
ARuVRA will provide its AR and VR training platform, which allows students to easily create compelling content and uniquely allows trainers to simultaneously interact with multiple students - all while in a virtual world. It will also provide the AR/VR hardware as a complete solution; jointly fund a place for a PhD student; provide consultancy to "train the trainers"; and provide practical work placements for students.
Frank Furnari, CEO & Founder, ARuVR, said, "AR, VR, and mixed reality is a powerful learning and development tool that is being embraced by enterprises worldwide. We are delighted to announce our first University partnership and to support the foresight of the City, University of London in creating not just the UK's largest AR and VR ethical design learning centre, but also the most technically advanced. Additionally, ARuVR will provide support and insight for students as they research and design projects, as well as provide industry work placements to give them real-world experience."