Purdue Pharma Canada
Docebo LMS Helps Transform Employee Training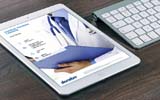 Athens, GA (USA), April 2016 - Docebo has released a case study in partnership with client Purdue Pharma Canada, a leader in pain management that utilizes the online training platform for onboarding new employees and continuing development at all stages of employment.
The case study, available on Docebo's website, explores a common pain point that drives many organizations to seek out a cloud-based LMS like Docebo. Rather than continue suffering from the effects of an outdated LMS that could no longer support the evolving needs of Purdue's evolving training program, the company sought out Docebo for its flexible integrations and agility in maintaining user databases and course content.
"We're happy to see that Purdue Pharma Canada is experiencing positive results with its growing training strategy," said Claudio Erba, CEO for Docebo. "Such feedback is critical for Docebo to continue offering an unparalleled client experience at each level of use.
The case study also discusses how the company deployed Excelerator, a white-labeled Docebo platform, to more than 400 users company wide within months of starting an initial two-week trial.
"For me, it's important to be able to easily help each trainee's progress," said Mihai Csaki, senior trainer for Purdue Pharma Canada Health Solutions. "If they have a particular certificate, I know they've achieved everything they need, so it's easy for me to run reports on who has and has not obtained that completion status."