Themen
Wien, Juni 2018 - Das österreichische Bundesministerium für Wissenschaft, Forschung und Wirtschaft hat eine Studie "Educational Technology (EduTech) für Österreich – die Verbindung von Bildung, Digitalisierung und Unternehmertum" herausgegeben. Hier werden Bildung und Innovation als maßgebliche Faktoren für soziale Sicherheit und wirtschaftlichen Wohlstand beschrieben.
» MEHR
Perpetual Learning Community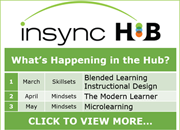 East Lyme, CT, (USA), February 2017 - InSync Training, LLC, a leading provider of blended-learning and virtual-training design and delivery, is proud to announce the Blended Learning Hub, an innovative makerspace designed specifically to support training and learning professionals. A social collaborative community, the Blended Learning Hub will provide a personal, curated approach to modern blended learning for learning professionals.
» MORE