L&Dpro Online Konferenz
Vier Themenschwerpunkte in vier Konferenztagen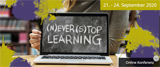 Mannheim, August 2020 - Vom 21. bis 24. September findet die zweite Ausgabe der L&Dpro Online Konferenz für betriebliche Weiterbildung statt. Die Veranstaltung richtet sich ausschließlich an Fachbesucher, das Programm behandelt vier Themenschwerpunkte des Learning & Development.
Nach der erfolgreichen Premiere der L&Dpro Online Konferenz veröffentlichte der Veranstalter boerding nun das Programm der zweiten Ausgabe vom 21. bis 24. September 2020. Wegen der hohen Nachfrage seitens Anbietern und Anwendern der Learning & Development-Branche erweitert boerding das Angebot um zusätzliche hochklassige Referenten.
Die L&Dpro Online Konferenz richtet sich ausschließlich an Personalentwickler, HR-Verantwortliche, Inhousetrainer und Akademieleiter. Die Vorträge teilen sich in je 30-minütige Präsentationen mit 15-minütigen Fragerunden auf.
Vier Themenschwerpunkte in vier Konferenztagen
Die Teilnehmer erhalten geballtes Fachwissen über alle Aspekte der Themen Lerntechnologien, Führungskräfteentwicklung, Future of L&D sowie Learning Innovations. Jeder Tag steht schwerpunktmäßig unter dem Motto eines dieser Themenkomplexe.
Wie moderne Learning Management Systeme (LMS), der intelligente Umgang mit Videos und neue eLearning Konzepte unsere digitale Zukunft bestimmen, zeigt der Schwerpunkt Lerntechnologien.
Das Thema Führungskräfteentwicklung umfasst neben Konzepten für digitale Lerndesigns auch klassische Aspekte wie die Bedeutung von Werten und Soft Skills im virtuellen Arbeitsumfeld.
Was hat Speed Reading mit einem verbesserten Arbeitsalltag zu tun? Wie erhöhe ich das Engagement der Lernenden in meinem Unternehmen? Was sind Trends und Strategien im Bereich der Personalentwicklung? Diese Fragen werden im Schwerpunkt Future of L&D beantwortet.
Der letzte Komplex Learning Innovations behandelt Themen wie die Wichtigkeit digitaler Kollaborationen und die Verbindung von ROI und Lernmotivation. Er zeigt ferner den Einfluss der internen Kommunikation auf die Bereitschaft, sich selbst aktiv weiterzubilden.  
Acht Keynotes verweisen auf wertvolle Branchentrends
Das Projektteam stellt acht hochkarätige Keynotes vor, darunter Stellvertreter von Vodafone, OTTO, REWE, SAP und viele weitere.