Realisiert von NEOCOSMO
Bestes Social Intranet 2020 für Festo Intranet "WeNet"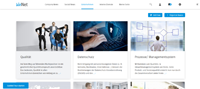 Berlin, September 2020 – Die PreisträgerInnen des Inkometa-Awards stehen fest. Auf der Inkometa-Gala wurden in den Kategorien Strategie, Kampagnen, Medien, Intranet & Digital Workplace sowie Internationale Interne Kommunikation 25 PreisträgerInnen ausgezeichnet. Das von dem Saarbrücken Start-Up NEOCOSMO für Festo realisierte Intranet "WeNet" erhielt den Inkometa-2020 in der Kategorie "Social Intranet".
Das Social Intranet von Festo wurde unter dem Leitmotto "For you – with you" realisiert. Seit Ende November 2019 bietet es weltweit den personalisierten Einstiegspunkt in die digitale Arbeitswelt bei Festo: Hier finden die 21.600 MitarbeiterInnen Neuigkeiten aus dem Unternehmen, Informationen über Abteilungen, die Kollegensuche, ihre Sharepoints und Business Anwendungen sowie interne Services.
In den vergangenen Monaten hat sich das neue System mehr als bewährt und seine absolute Notwendigkeit in Sachen Flexibilität und (Krisen-)Kommunikationsfähigkeit unter Beweis gestellt. Die Corona Pandemie hat für viele Unternehmen neue und bis dato unbekannte Herausforderungen zu Tage getragen – nicht zuletzt für die interne Kommunikation. Das neue WeNet konnte dabei helfen, schnell und angemessen zu kommunizieren und den Mitarbeitern so ein Gefühl von Sicherheit und "Up-to-date" Gefühl zu geben – eingebettet in eine stabile IT-Infrastruktur und dem direkten, digitalen Austausch – abteilungs- und länderübergreifend.
Wichtige Merkmale des preisgekrönten Intranet-Konzepts waren:
Durch ein "app-artiges" Inhaltskonzept wird das WeNet hierarchiefrei, inhaltlich flexibel, jederzeit erweiterbar und offen.
Die Plattform ist personalisiert, bezogen auf Rolle, Organisationszugehörigkeit, Standort und Sprachpräferenzen, sowie individuelle Einstellungen und Abonnements der User zu News Kanälen etc.
Ob Desktop oder mobil – das neue WeNet kann mit jedem Festo-Gerät von überall genutzt werden.
Inhalte liken, Neuigkeiten teilen, Kommentare schreiben, nichts mehr verpassen – mit den integrierten Social Functions ist dies ab sofort möglich.
Alle Anwendungen im Zugriff: ob die eigenen Sharepoints, als auch die für einen Nutzer relevanten Geschäftsapplikationen: Alles ist unmittelbar von jeder Seite verfügbar, bis hin zu projektbezogenen Kollaborationsplattformen.
Die vollintegrierte WeNet Suche dient dem Ziel die passenden Daten, Dokumenten und Werkzeuge zu finden. Sie geht über die Inhalte im Intranet hinaus und umfasst auch die Suche in weiteren Festo (Produkt-) Datenbanken und Plattformen.
Frank Milius, Geschäftsführer von NEOCOSMO freut sich über die Auszeichnung: "Wir sind stolz, als junges Unternehmen, Festo als Kunden zu haben. Gemeinsam haben wir eine intelligente Kommunikationsplattform geschaffen, die im Alltag hervorragend funktioniert. Die Auszeichnung bestätigt die Mühen und das Engagement des Festo Projekt-Teams und der NEOCOSMO Mitarbeiter."
Initiatorin des Internen-Kommunikations-Wettbewerbs INKOMETA ist die SCM – School for Communication and Management. Der Award setzt sich zum Ziel, gelungene Arbeiten aus der internen Kommunikation zu präsentieren und zu prämieren.