Themen

Brighton (UK), December 2022 - Anders Pink has launched its Complete Curation Product, designed to help organizations discover and curate some of the world's best learning content. Automatically mapped to the skills that matter, it is a data-driven, consistent, and automated solution.
» MORE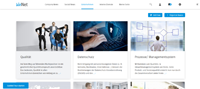 Berlin, September 2020 – Die PreisträgerInnen des Inkometa-Awards stehen fest. Auf der Inkometa-Gala wurden in den Kategorien Strategie, Kampagnen, Medien, Intranet & Digital Workplace sowie Internationale Interne Kommunikation 25 PreisträgerInnen ausgezeichnet. Das von dem Saarbrücken Start-Up NEOCOSMO für Festo realisierte Intranet "WeNet" erhielt den Inkometa-2020 in der Kategorie "Social Intranet".
» MEHR
Athens, GA (USA), October 2016 - With more than 13,044 lifetime-enrolled users and a 30- percent year-over-year growth rate, Nintex, a workflow-technology company, chose Docebo because it needed a learning-management system capable of managing internal growth while enabling customer and partner networks.
» MORE