Konzepte überdenken
Fosway-Studie läutet neue Talent Management-Ära ein
London, November 2020 - Eine neue Studie der Fosway Group, Europäischer Analyst für HR-Software, zeigt eine radikale Veränderung im Talent Management auf, in einer Zeit, in der Organisationen durch die COVID-19 Pandemie navigieren und sich an neue Arbeitsweisen anpassen. Das 2020er Fosway 9-Grid™ für Talent & People Success sprengt die traditionellen Grundlagen des Talent Managements und läutet eine neue Ära der Demokratisierung und positiven Veränderung ein, mit der HR die Personalstrategie fit  für die Zukunft machen kann.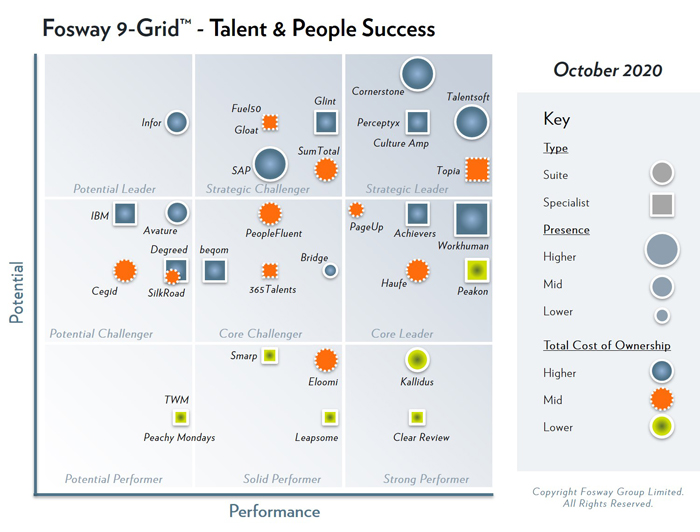 Der Bericht hebt hervor, dass sich Talent Management zu lange auf eine eingeschränkte Anzahl von High Potentials und die obersten Führungsebenen konzentriert hat. Die Corona-Pandemie hat das Thema "Talent" aber zu einer unternehmensweiten Herausforderung gemacht. In einer Welt, in der Organisationen genau abwägen müssen, wer, wo, wann und an was arbeitet, sind traditionelle Talent Management-Prozesse und -Strukturen viel zu langsam und eng gefasst und haben sich als unzureichend erweisen, um agil und transformativ in der Krise zu reagieren.
David Perring, Director of Research bei Fosway, kommentierte: "Während sich um uns herum eine neue Arbeitswelt entwickelt, machen die traditionellen Stützpfeiler des Talent Managements immer wenig Sinn. Es ist an der Zeit, dass Organisationen etablierte Ansichten zu Nachfolgeplanung, Performance Management und jährlichen Mitarbeiterzufriedenheitsbefragungen überdenken und diese weiterentwickeln. Vor dem Hintergrund schwieriger Maßnahmen, wie Einstellungsstopps, gekürzter Weiterbildungsbudgets, Kurzarbeit und Entlassungen ist es jetzt an der Zeit das Thema 'Talent' anders anzugehen."
Fosways 2020er 9-Grid ™ für Talent & People Success baut auf den 9-Grids™ der letzten sechs Jahre auf, die sich auf Talent Management konzentrierten. Gemeinsam mit den anderen jährlich veröffentlichten Fosway 9-Grid™-Berichten zu Cloud HR, Recruiting, Learning Systemen und Digital Learning ist auch diese Analyse ein Schlüsseldokument für Käufer von HR-, Talent- und Learning Software-Lösungen innerhalb von Europa.
David Wilson, CEO von Fosway, sagte: "Im vergangenen Jahr haben wir unsere Analyse auf eine wachsende Anzahl spezialisierter Talent Management-Lösungen ausgeweitet. Das Marktsegment wurde jedoch von Cloud HR Suiten von oben und von schnell wachsenden Spezialisten von unten aufgewirbelt. Es ist daher an der Zeit innezuhalten, die Konzepte zu überdenken und neu zu kalibrieren."
Er fährt fort: "Die Pandemie hat Organisationen zu Veränderungen gezwungen. Unternehmen müssen agil sein, und dies gilt ebenso für ihre Belegschaft und ihre Talentprozesse. Es geht hier nicht nur um Employee Experience, sondern auch um organisatorische Agilität, Performance, Ergebnisse und den Erfolg aller Mitarbeiter. Aus diesem Grund haben wir das Marksegment komplett neu klassifiziert und fordern HR auf, die kritische Notwendigkeit zu erkennen, dass alle Mitarbeiter betrachtet werden müssen und Talentansätze vollständig anders gedacht und umgesetzt werden müssen."
David Wilson, CEO von Fosway, und David Perring, Fosways Director of Research, werden am 18. November 2020 in einer "Ask The Analyst" Online-Sitzung sich live Ihren Fragen zu dieser neuen Studie stellen und sie beantworten.